New Book Club Feature: Michael Vey: The Prisoner of Cell 25
Richard Paul Evans novel.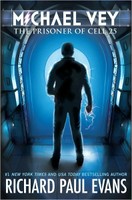 The new Circle of Respect book club selection features Michael Vey: The Prisoner of Cell 25 by best-selling author Richard Paul Evans. Download it here or search for it on iTunes.
As the first book in what will certainly become a timeless series by Richard Paul Evans, Michael Vey, tells the story of an unlikely teen here who, despite struggling with Tourette's Syndrome, has special powers that help him overcome a number of obstacles that threaten not only his friends but the world. This engaging novel is both highly entertaining as well as insightful. It offers readers a chance to explore themes that are present in all of our lives such as friendship, bullying, respect, and bravery. In this podcast, author Richard Paul Evans speaks with NCPC's Robin Young about how Michael Vey came to be, and what's in store for him next.