"When the Going Gets Scruff,"
New Animated Video Teaches Young Children How to Handle Bullying, NCPC releases new bullying prevention video nationwide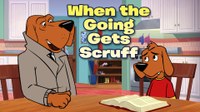 The National Crime Prevention Council (NCPC), with support from the Office of Community Oriented Policing Services (COPS), U.S. Department of Justice, has created an animated short video to address the epidemic of bullying among youth in schools and communities. The video also serves as a tool that helps law enforcement and schools work together to prevent future acts of bullying.
"When the Going Gets Scruff" provides an opportunity for officers and teachers to work together in delivering anti-bullying messages to young children," said NCPC President and CEO Ann M. Harkins. "COPS and NCPC continuously strive to provide law enforcement with enhanced resources to educate children and youth on bullying and increase the number of law enforcement officers who partner with school staff and community stakeholders."
Throughout the animated video, viewers follow the story of Scruff®, McGruff the Crime Dog's® nephew, who is being bullied. NCPC's classic icon McGruff helps Scruff figure out the best way to deal with being bullied through a unique "what-would-you-do" interactive selection process in which viewers select different approaches to addressing Scruff's dilemma. Additionally, an officer visits Scruff's school to talk to all the children about bullying. From this new video kids takeaway two important messages — "Don't bystand. Lend a hand," and "Stop, talk, and walk."
Bullying is linked to numerous negative outcomes for victims, bystanders, and those who commit the act, which is why it is important to teach children at an early age about bullying. The messages from this animated short teach young children that fighting is not the solution to bullying and neither is ignoring the issue. Children learn they should talk through their problems and report bullying to trusted adults who will listen and help.
To view and share the video, visit NCPC on YouTube https://www.youtube.com/NCPC82, or to download a copy of When the Going Gets Scruff to use at a school, community center, or PTA meeting, visit http://www.ncpc.org/about/when-the-going-gets-scruff.