Growing Up McGruff: Damien Hudson Story
"Find something you like to do, and are good at, and you'll never work a day in your life," said Sheriff J.B. Smith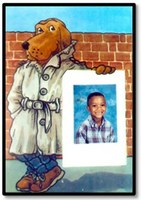 "Find something you like to do, and are good at, and you'll never work a day in your life," said Sheriff J.B. Smith from the Smith County Sheriff's Office in Tyler, Texas, while giving advice to 19-year-old Damien Hudson, also from Tyler. The two had bumped into each other while fishing one weekend day in early November 2012. "Right then I knew what I wanted to do," Hudson told the National Crime Prevention Council.

Hudson aspires to become a game warden, combining his passion for animals and the outdoors with criminal justice. The young man recently graduated from Robert E. Lee High School, took a semester to help his family with its ranch, and is scheduled to begin taking classes this spring at Tyler Jr. College. He will major in agriculture sciences in wildlife management and minor in
criminal justice.

Hudson's path to becoming a game warden began long before his recent encounter with Sheriff Smith. Hudson grew up with several positive crime prevention role models – namely McGruff the Crime Dog® and relatives in law enforcement. The recent high school grad speaks fondly of his law enforcement relatives, such as his cousin who is a detective in Houston, and attributes his good safety decisions throughout his grade school years to McGruff.

The first time Hudson met McGruff was through the McGruff and Me program when he was enrolled in the Tyler Independent School District Head Start program at Mattie Jones Elementary School back in 1998. He then met McGruff for a second time in the second grade
when attending Rice Elementary. An officer and McGruff came to visit with a German Sheppard police dog and Hudson remembers "smiling ear-to-ear thinking, 'this has got to be a sign!'" Since then, Hudson has been an active participant in community service activities and has won several accolades through community-based competitions.

The Tyler Police Department, located in Smith County, Texas, began the McGruff and Me program in 1995. Police Chief Bill Young approved the program for the Tyler Independent School District Head Start schools, and at the time they were able to partner with Create-A- Books so that each child participating in the program would receive a personalized, illustrated McGruff and Me book in which McGruff teaches children about school safety and crime prevention. Each book was personalized to include an individual child, his or her neighbors and friends, and that child's hometown. The program was so successful it was recognized by the 1998 Governor's Volunteer Awards and a certificate was presented to Tyler Police Department by former Governor and 43rd president of the United States George W. Bush.

Hudson's mother kept his McGruff and Me book, and 14 years later it caught the eye of Smith County Sheriff's Office Volunteer Coordinator Alicia Armstrong at the annual Kid's Fest event sponsored by the Texas Department of Family and Protective Services. Armstrong was walking around the event alongside McGruff when she spotted the book, and she and Mrs. Hudson struck up conversation.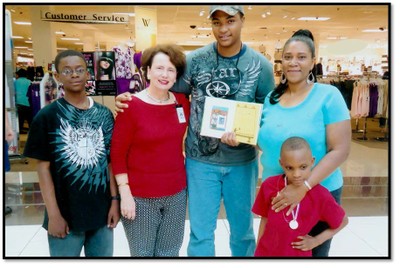 As luck would have it, Armstrong had been working at Tyler Police Department during the conception of the McGruff and Me program. When she transitioned to her position at the Smith County Sheriff's Office, she and Smith County Sheriff Chief Deputy Bobby Garmon led an effort to adopt a similar program for the county in the fall of 2009 titled the Jr. Deputy Anti-Crime Program. The program is also an annually registered Celebrate Safe Communities event, which is an initiative of the National Crime Prevention Council. As part of this new program, law enforcement officers and volunteers accompanied by McGruff visit pre-kindergarteners through second-graders in the fall to speak to the children about crime prevention, bullying, name-calling, general safety, walking safety, stranger danger, and dialing 9-1-1. The children are also shown educational videos on these topics and receive gift bags containing safety information.

Since 2009, the Jr. Deputy Anti-Crime Program has reached more than 2,500 kids. This program isn't the only way Smith County gets its kids involved in the community and crime prevention. "In the spring, we do the Kid's Fest," said Armstrong, "and different organizations are there

talking to the children about safety." Officers and volunteers also visit local parks in the summer with the McGruff puppet to speak with children about crime prevention, sponsored by the Tyler Parks and Recreation Summer Playground Program.

Because of the community involvement of the Smith County Sheriff's Office, Armstrong and Hudson were able to connect. Now a young man who has grown up with McGruff is scheduled to begin volunteering with the Jr. Deputy Anti-Crime Program to teach other young children the same lessons and values about crime prevention he learned 14 years prior. With a little help from positive role models early on, like McGruff the Crime Dog, Damien Hudson is well on his way to becoming a successful law enforcement officer, teaching others about proper crime prevention and keeping his community safe.