Using Technology on the Move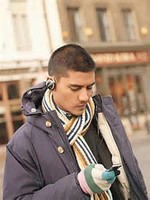 It's pretty simple: being distracted when operating a car, walking on the street, or using public transportation isn't safe and makes you a target for crime. Technology and portable devices are becoming increasingly popular. We have grown accustomed to constantly being stimulated by smartphones, portable media players, and electronic readers. To drown out the noise of the road, the crowd, or the bus, we put on headphones and become detached from our environment. There's a time and a place to sit back, relax, and let your mind go free—that's not while driving, walking, or taking public transportation.
Quick Facts
Increased Accident Risk by 400%

Talking on the phone, reading a text message, or sending a text message while you are driving.1
300% Risk Increase in Last 6 Years

The death rate of people hit by cars or trains while wearing headphones.2
Chance of Accident 23 Times More Likely

A texting driver is 23 times more likely to get into an accident than a non-texting driver.3
Takes Only 5 Seconds…

Average time your eyes are off the road when texting? 5 Seconds. If traveling at 55 mph, that's enough time for a vehicle to travel the length of a football field.
Walking and Talking Risks

In 2011, more than 1,100 people were treated in emergency rooms for incidents involving mobile phones while walking.4
When Driving
Don't use phones or other electronic devices while driving. If it's an emergency, use a hands-free device.
Download a ring-back app or set up a "driving" voicemail alert that tells callers you are driving at the moment and will return the call at your earliest convenience.
Suspend conversations during hazardous weather conditions.
Do not engage in stressful or emotional conversations while driving.
When trying to figure out directions, pull over in a lighted area and map out the route.
Turn on the audio on your GPS for turn-by-turn directions. But think twice about programming "home" into your GPS. If someone steals your car, they will have your address and may be able to gain access into your garage or home by using the garage door opener in your car.
Turn notifications off. The fewer alerts you receive from your phone, the less likely you are to look at it.
Use a designated texter. If there is someone else in the car with you, have him or her text for you.
While Walking/Jogging/Running/Biking
Put the headphones in only one ear. This way, you can hear traffic and pedestrian noises.
Move to the side and stand still while sending a text or searching through your phone.
When using a portable device, keep a strong grip and hold it close to your body.
If struggling to find a signal, don't hold the device up in the air with one hand. Not only does this do little to help with reception but also it draws attention to the device and makes it easier to steal.
Use a hands-free device for phone calls and stay alert.
Turn off notifications. Wait until you get home to check the alerts.
Do not engage in emotional or stressful conversations.
Monitor your phone call and what you say. You're not telling just the person on the other line that you're lost, almost home, or on the way to the bank; you're telling everyone around you.
When Taking Public Transportation
Keep electronic devices secure, and if listening to music, have only one headphone in your ear and keep the device fastened in a pocket.
Be discreet. You never know who is looking over your shoulder. Opening social media or email gives those around you a chance to view your personal information.
Avoid bright-colored cords for your headphones that will attract attention that you have an expensive device.
Don't use the device near doors. A thief can reach in and grab the device.
1 Virginia Tech Transportation Institute (2009). Transportation with Technology.
2 Source: Lichenstein, R., Smith D., Ambrose, J., Moody, L. (2012). "Headphone use and pedestrian injury and death in the United States 2004–2011." Injury Prevention, 04016. Published Online First 16 January 2012.
3 Virginia Tech Transportation Institute. (2009). Transportation with Technology.
4 McEvoy, S.P., Stevenson, M.R., McCartt, A.T., Woodard, M., Haworth, C., Palamara, P., and Cercarelli, R. (2005). Role of mobile phones in motor vehicle crashes resulting in hospital attendance: a case-crossover study. BMJ 331(7514). p.3.