Security Deposit
At the beginning of your lease, the landlord will require you to pay a security deposit.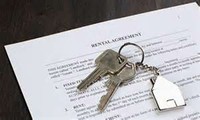 The security deposit is to protect the property and the owner from damages beyond normal wear and tear. Laws in each state vary on the total amount a landlord can charge depending on furnished and unfurnished units. Typically the security deposit is equal to one month's rent. For example, if you find an apartment that costs $500 per month in rent, the landlord may ask for a $500 security deposit, totaling $1,000 in upfront costs before you can move in.
Application and processing fees are not included in your security deposit. Complexes usually charge application screening fees to cover the cost of reference checks, background checks, and credit checks. These fees are nonrefundable.
Getting Your Security Deposit Back
Once you've reached the end of your lease and are ready to move out, the landlord will do a final walk-through to check the condition of your apartment. Complete a move-out checklist and compare it to the one you filled out when you moved in. A landlord can withhold from your security deposit only amounts that are reasonably necessary for the following:
Repair of damages caused by the tenant beyond normal wear and tear (see Notes below)
Cleaning the unit
Unpaid rent
Note: Normal wear and tear usually includes carpet cleaning, spackling, minor painting, and minor cleaning.
Note: Landlords can't use your security deposit to fix damages that occurred before you moved in. Normal wear and tear differs from landlord to landlord, so check the lease to know what you can be charged for.