Tenants' Rights
Regardless of the rental agreement, each tenant has basic legal rights as a renter.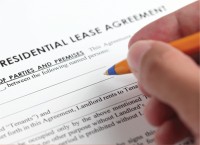 Legal rights of a tenant vary from state to state. To get the most up-to-date information for your state, visit the U.S. Department of Housing and Urban Development website at www.hud.gov. In most states, these rights include, but are not limited to the following:
A limit on the amount of the security deposit.

Maximum security deposits differ from state to state. Typically, a place will charge an amount equal to a month's rent as the security deposit.
A limit on the landlord's right to enter the rental unit.

The landlord can enter your apartment only in the event of an emergency or with the approval of the tenant.
The right to a refund of the security deposit or a written accounting of how it was used after you moved out.

The landlord has approximately one month after you move out to refund your security deposit or mail an itemized statement of how the money was used along with any refund.
The right to sue the landlord for violations of the law or your rental agreement.

A tenant can sue a landlord for damages if a landlord neglects repairs and an apartment becomes uninhabitable. Tenants may also sue landlords for harassment, discrimination, and withholding a security deposit.
The right to repair serious defects in the property and to deduct repair costs from the rent, as appropriate.

Known as a "repair and deduct" remedy, tenants can make repairs to a property and the landlord will deduct up to one month's worth of rent. These repairs must be serious and directly related to health and safety. You should consult an attorney or local housing authority before taking this step.
Protection against retaliatory eviction.

In the event a landlord is sued, the landlord legally can't evict the tenant. A landlord also may not raise the rent or harass a tenant because the tenant exercised a legal right.
Discrimination
It is unlawful for a landlord to refuse to rent to someone on the basis of group characteristics, such as race or religion. Look up the residential rights and responsibilities for tenants and landlords in your state. Every state has laws that prohibit discrimination based on the following:
Ethnicity
Sexual orientation
Sex
Marital status
Familial status
Medical condition or mental or physical disability
The Federal Fair Housing Act prohibits housing discrimination and insists landlords treat every tenant equally and fairly. Discrimination occurs when, based on prejudiced criteria, the landlord does the following:1
Refuses to sell, rent, or lease a unit
Creates different terms or standards for certain tenants
Provides inferior housing conditions, facilities, or services
Refuses to make reasonable accommodations for a disabled tenant
Cancels or terminates a rental agreement
Landlords and property owners can deny tenancy if the selection is based on objective and pre-established criteria. A prospective tenant can by denied tenancy based on credit history, income, history of nonpayment of rent, bankruptcies, references, certain criminal convictions, and pets.
1 The Fair Housing Act. Sec. 804 , 42 U.S.C. 3604 (1968).