First Apartment
You're ready for your first apartment, but where to begin?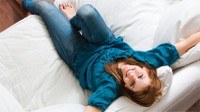 You probably want to be in area that's close to your work, or college, or maybe even mass transportation if you don't own a car. And while budget is always a consideration, you don't want to sacrifice your safety to save a little money. So use your resources to make the best and most informed decision: Internet, inquisition, and instinct.
Internet

Use websites such as www.bestplaces.net to search different areas for statistics and data on climate, employment rates, culture, household income, crime rates, and so forth; any of these factors could affect your satisfaction with a neighborhood.
Inquisition

Talk to friends and relatives who may have visited the area or know someone who lives or has lived there. Ask about their experiences and any tips they have for adjusting to the area.
Instinct

Trust your gut. If you don't like what you hear or see, don't move there. If you're unsure, visit the area at different times of the day and on weekends. You will live there for 365 days and nights a year, so be thorough.
Remember leases typically run for one year, and they are legally binding—meaning if you don't like your apartment or the neighborhood after two months, tough. Depending on the size of the city or town, finding an apartment can become an extremely daunting task with many, many options.
Visit websites that provide ratings and testimonials from former and current tenants regarding cleanliness, maintenance, and security. Search using keywords such as "apartment ratings." Contact real estate or leasing agents and schedule a tour of the property. Make sure to take someone else with you for safety precautions, as well as to get a second opinion on the place.
While hunting, it's important to decide which features you need and which features you want in your place. Use the Apartment Feature Checklist for each place you visit to record features, amenities, and additional notes to help you make the best decision.