Car Insurance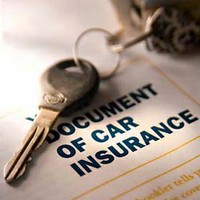 Insurance is intended to protect the value of a car from loss or damage. Insurance companies charge a monthly premium to provide you with car insurance. The amount of the premium depends on your credit. Similar to how health insurance works, the higher the monthly premium, the lower the deductible and vice versa. Once your deductible is met, insurance will cover any additional charges.
Scenario: You have car insurance with a $500 deductible. You back into a brick wall and cause $1,500 worth of damage to your car. You will have to pay $500 toward the repairs of your car before your insurance company will pay the remaining balance of $1,000.
Premiums
Shop around and compare different rates from different companies. Some agencies will give discounts to young drivers with good grades who have taken a driver's education course. Ask the agent about special rates and discounts for clean driving records. Your premium and policy rate correlate with your driving record. The first few years on the road are especially important in securing a clean driving record (free of speeding tickets, reckless driving, and DUI/DWIs). A clean driving record will keep your premiums low.
Proof of Insurance
Certain states require you to have proof of insurance in your car at all times. The insurance company will issue you a certificate of insurance with the effective coverage dates. Keep this record with your vehicle registration in your purse or wallet, not in your car.
Types of Coverage
Review the laws for your state on what type of insurance coverage is required. The more coverage you have, the better protection you will have in the event of an accident or emergency. Also keep in mind, the more coverage on your policy, the higher your premium will be. Take into consideration how often you drive, in what areas, and the amount of traffic you encounter to pick coverage best suited for you. Usually, if you take out a loan to buy your car, the loan company will dictate what type of coverage you are required to have.
Liability

The most common type of insurance. In the event of an accident for which you are found to be at fault, liability insurance will repair damages and cover medical expenses for injured parties. Most states require that you carry liability insurance. Liability insurance covers the other driver first and may not cover the additional expense of repairing your own vehicle.
Collision

Collision insurance ensures that your insurer will also cover the damages to your car and match its value if totaled. If you have an older car, this coverage may not be worth it if you pay out more in premiums than the vehicle is worth.
Comprehensive

Liability and collision insurance provide coverage in the event of an accident. If your car is damaged by events such as weather, theft, or collision with an animal, comprehensive insurance will cover any of the damages. It's beneficial, though it can be a little pricey. If your vehicle has antitheft and tracking devices, the price may be lower.
Uninsured Motorist Protection

Not everyone on the road has insurance even though the law requires it. This policy will cover damages caused by an uninsured motorist.
Medical and Personal Injury Protection

In the event of an accident, no matter which driver is at fault, this insurance will cover medical expenses for you and your passengers. If you already have medical insurance through your parents or your work, this coverage may not be necessary.
No-fault Insurance

This product is available in only a limited number of states; this insurance covers injuries and property damage regardless of fault.
Gap Insurance

Generally a good choice if you still owe money on your car and couldn't immediately pay the difference if your car is totaled in an accident. This insurance is especially worthwhile if you owe more on your car than it's worth.