Tips To Create an Effective Resume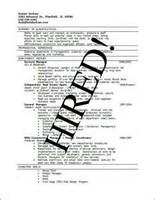 Accuracy

When creating your resume, it's important to be honest and accurate. Embellishing your resume can come back to haunt you. Many people have been fired from their jobs because they lied on their resume or job application. Most employers conduct background checks and check your personal and professional references. If your employment history doesn't match up, you will be denied the position.
Tailoring

Being honest on your resume doesn't mean you can't tailor the information and your cover letter to fit a specific position. If you're trying to get a position in marketing, highlight the parts of your work history where you developed materials and worked creatively. A marketing firm may not be interested that you are skilled at installing windows, so don't emphasize that. For your own records, create a document for each position you've had with your list of duties, and adapt each application based on your qualifications and the skills required for the position.
Skills

Be mindful of listing "off-the-job" experience and private affiliations. Volunteer and charity work are beneficial to list, as are publications of your work and certifications. However, political, religious, and controversial affiliations should not be listed. (If you're applying for a political campaign, faith-based organization, or such, these qualifications may be appropriate to list.)
Posting Your Resume Online
Identity theft is when someone wrongfully obtains and uses your personal data in a way that involves fraud or deception. To protect yourself against identity theft and other improper uses of your personal data, give out only essential information on your resume.
Dos and Don'ts

Don't list your birthdate gender, race, or any other sensitive personal data on your resume.
Never put your social security number on your resume.
Don't use your full legal name, and don't give your middle initial. Your first and last name will do.
Consider using a disposable email address when submitting your resume.
Consider using a blind resume, one that includes your name and a disposable email address but not your street address or other identifying information.
Protect your references, and don't list them on your resume or application. Provide only if requested.