Discrimination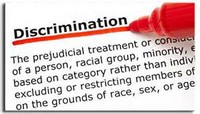 It's not always easy to determine if you're being discriminated against. If you feel you are the victim of discrimination, follow your agency's grievance process. If you are not satisfied with those results, you can meet with a representative of Equal Employment Opportunity Commission (EEOC). Should you choose to report discrimination, it is also against the law for your employer to retaliate against you reporting.
Discrimination is against the law.

The following classes are protected classes under United States employment law:

Age
Disability
Genetic information
Marital status (in some cases)
National origin
Pregnancy
Race
Religion
Sexual orientation
Veteran status
Discrimination is still prevalent despite laws against it. According to www.eeoc.gov, 93,727 charges of discrimination were received in fiscal year 2013. As in previous years, retaliation was the most frequently cited basis for charges of discrimination. This was followed by race discrimination (35.3 percent); sex discrimination, including sexual harassment and pregnancy discrimination (29.5 percent); and discrimination based on disability (27.7 percent).
The Williams Institute on Sexual Orientation Law and Public Policy aggregated a number of surveys to determine the extent to which gay and transgender workers experience discrimination and harassment in the workplace. Fifteen percent to 43 percent of gay and transgender workers have experienced some form of discrimination on the job. Eight percent to 17 percent of gay and transgender workers report being passed over for a job or fired because of their sexual orientation or gender identity.