Military Gangs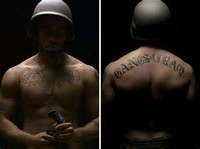 The presence of gangs in the military has been on the rise. As of April 2011, the National Gang Intelligence Center identified members from 53 different gangs active in the U.S. military. Some street gang members join the military as an alternative to prison to abandon the gang lifestyle but soon get coerced back into the gang by fellow gang-affiliated military personnel. Other street gangs purposely seek out the military to expand their numbers, learn combat training, and gain access to weapons and drug trafficking.
Evidence of rival gangs in the U.S. military exists overseas, where gang members tag their affiliations on Humvees and use gang signs. The military is creating new programs to moderate the recruitment process through record checks and decoding gang tattoos and gestures, but there are steps you can take to keep yourself safe.
Keep your eyes and ears open.

Some of these gang members have joined the military for illegitimate reasons and will use the knowledge gained from the military to conduct illegal acts, such as weapons and drug trafficking. Report any information you have about illegal activity to your commanding officer.
Use the buddy system.

All branches of the military have a buddy system, by which two people work together as a single unit to monitor and look out for each other.
The Department of Defense takes involvement in gangs very seriously. Commanders have the authority to employ the full range of disciplinary actions, ranging from discharge to criminal charges.