Joining the Military
Joining the military is a noble and courageous choice—one not to be made lightly.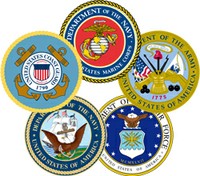 Being a member of the armed forces is a challenging and rewarding experience, but it's not a typical job. You can't quit if you don't like it. It's a lifestyle and requires a commitment. Know what to watch out for before you join and sign your contract.
Branch
Choosing the right branch of service is vital to your future. Make sure you pick the one that best fits your needs and future goals. Speak to a recruiter from each branch and ask what the enlistment process entails. Figure out where the duty stations for each branch are located and if a particular branch has a job that interests you.
Talk to someone enlisted in each branch. Ask them what they would have done differently or any insider tips on how to negotiate your contract. Talk to veterans. Get a full understanding of what war and military duty entails. Ask about benefits and the transition back into civilian life.
Bring a friend or parent with you. You will feel more at ease with the decision if you can discuss it with someone you trust.
If you have a police record or medical condition, don't hide it from the recruiter. One way or another, the military will find out, and you (not the recruiter) will be in trouble.
Job
Almost every civilian occupation has a counterpart in the military, from doctors and lawyers to mechanics and computer programmers. Be sure to pick something you will enjoy and that has an equivalent role in the civilian world. Even if you're unsure of what you want to do, having an idea of what you don't want to do can be helpful.
Keep in mind that depending upon what the military needs, the recruiter may try to persuade you to go into a certain field because that's the position he or she has been asked to fill. Don't let your recruiter decide what you will do with your future. Be prepared and speak up.