Online and Mobile Banking
Online banking eliminates the need always to be near a branch or ATM to check your balance or confirm a payment. In fact, most people don't ever need to go to the bank.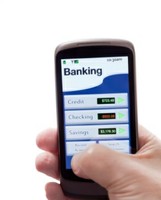 Most banks have advanced systems connected to their servers to protect your account, such as password configuration, picture recognition, and security questions. Some banks will ask when you sign up if you want the system to remember the computer you are using for future access. No system is fail-proof; whether it's a home or public computer, be cautious when storing any passwords.
Smartphones now have applications to get direct access to your bank and your account. Cell phones can be easily stolen and all the information inside is in jeopardy. Use complex passwords and always log out after accessing account information on your phone.
Open your bank information only in a secure location. Anyone can be looking over your shoulder or take a picture of your screen and steal your information.
Be careful to cover your PIN when using your debit card to withdraw money from an ATM or when you're making purchases.
With direct deposit and online bill paying, most banking needs can be met online. Online banking is FDIC and NCUA guaranteed; therefore, your money is still protected. Review your online banking system and mobile apps with an account manager to make sure you understand the system, its privacy and protection settings, and all of its capabilities and risks.